Celebrate a Nostalgic Christmas in Lancaster County
November 24, 2020
Let's face it. We could all use some stress relief this holiday season. The pandemic and other stressful events have many of us seeking weekend retreats to decompress, regroup, and relax.
Lancaster County is the perfect destination for those seeking modern amenities and comfort while in pursuit of nostalgic, quaint experiences that can take you back to simpler days. Indoor and outdoor holiday events are taking place throughout Lancaster and neighboring counties. AmishView Inn & Suites, Tripadvisor's Number 1 Lancaster hotel,  is one of the best places to stay, be near it all, and still be able to enjoy quiet, retreat-like accommodations. We even offer adults-only suites for those without children.
We look forward to receiving guests and we encourage you to view some of the modifications we've made to help ensure your health and safety. Please call for COVID-related updates and to check for availability.
Christmas in Lancaster County
Not far from our luxury suites, you'll find Sight & Sound Theatres, among the top theater destinations in the country. What better way to prepare yourselves for 2021 than to experience the courageous tale of "Queen Esther," now showing live on stage through Dec. 31 and again from Feb. 12, 2021-Dec. 23, 2021.  Be inspired by her tale of bravery as she, a Jewish woman, becomes wife to a Persian king.
Discover Lancaster shares other holiday event ideas.
Nostalgic Christmas Events
Have you and your family spent Christmases past visiting light displays in your neighborhood? You can celebrate that holiday tradition this year. Lancaster County has numerous outdoor Christmas light displays, including the Christmas Spirit Light Show at Clipper Magazine Stadium (about 10 miles or 20 minutes from AmishView Inn & Suites). You can see thousands of colorful, festive lights. Classic Christmas tunes are broadcast via your car's radio, causing the lights to "dance" in harmony.
One of the more unique holiday lights displays takes place north of us at Refreshing Mountain retreat area. You can experience 8 miles of Christmas light strands while ziplining. There are drive-thru options as well, which support local nonprofits. You can get details on the Refreshing Mountain website. A little more than 30 minutes away, it's virtually a straight path up north and easy to get to.
Dutch Wonderland hosts its drive-through holiday lights display 5 – 9pm from December 2 – 31, excluding December 24 and 25. It's about a 10-minute drive from AmishView Inn & Suites.
Hoping for something closer? In our "backyard," discover the Amish Experience, offering guided tours (including a contactless option) of Amish farmlands, an Amish schoolhouse, and a production of "Jacob's Choice." You won't see any holiday lights, but you will enjoy beautiful views of the countryside and a nostalgic look back to simpler times. Aaron & Jessica's Buggy Rides are another great option for experiencing the peaceful views of Lancaster County farmland.
Do trains help take you back in time? The Choo Choo Barn, only about a 10-minute drive from AmishView Inn & Suites, is already decorated for the holiday season! You can see a miniature version of Lancaster County. This 1,700 square foot train display gives you a bird's eye view of Strasburg, Pa., and other quaint towns located throughout Lancaster County.
Want to experience the "real thing"? Strasburg Rail Road in Ronks is just a 6-mile car ride from the hotel. Strasburg Rail Road Christmas Trains arrive and depart on Nov. 21 through Dec. 24, and Santa Claus is on board!
Antiques Shopping
Lancaster County is well-known for its antiques shops and what better place to find those nostalgic toys you once owned (or listed on your childhood Christmas Wish List)?  TripAdvisor lists numerous antique stores near us, and our guest services staff would be more than happy to help you decide which ones to visit.
Holiday Shopping in Lancaster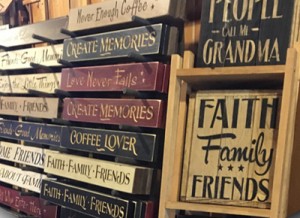 We have a Shopping Add-on Enhancement for free! Book your room online or call 1-866-735-1600!  When you book your room over the phone, mention the free shopping enhancement. You can also add this enhancement when you book online. You'll receive:
Oversized, AmishView Shopping Tote
Tanger Outlets Coupon Book voucher & Store Directory/Map
Bottled Water
Quilted Keychain voucher from The Quilt Shop at Miller's
Plain & Fancy Country Store & Miller's Gift Shop coupon
Complimentary In-Room Movie
Two snack bags of locally made pretzels
The Country Store at Plain & Fancy is a great place to shop this Christmas for truly unique gifts, including authentic Amish-made bonnets, dresses, wooden toys, dolls, and more. Treat yourself, too, with a freshly baked shoofly pie, whoopie pie, or fresh loaves of bread, or head over to nearby Miller's Smorgasbord and Gift Shop for more shopping options.
Looking for more modern gifts? Tanger Outlets has dozens of favorite brand-name and designer outlet stores located in one spot. It's just 11 miles away from the AmishView Inn & Suites.
Learn more about our Specials, Add-On Enhancements, and Coupons.
Related Articles