Rekindle romance at Amishview Inn & Suites adults-only hotel, inside a luxurious Grand Room where peace and quiet welcome you. Enjoy a well-deserved, relaxing stay in beautiful Lancaster County inside your spacious room that overlooks Amish farmland.
Spend an exciting evening in the city of Lancaster just XX miles from your suite or choose to stay nestled inside where you can team up to prepare dinner for two in your own kitchenette or take a short walk to any of the on-site dining attractions.
Or simply stay in your oversized bed enjoying wine, chocolate, and a movie. Continue reading →
As the number of coronavirus cases steadily declines, people are starting to travel again. It's exciting to know Lancaster County tourism continues to emerge from COVID-19 and visitors from surrounding counties and states are once again discovering the beauty of Amish Country.
People are ready to shed their cabin fever: Families coming to Lancaster for the Amish experience or to see shows at American Music Theater or Sight & Sound, couples looking for a romantic getaway, outdoor enthusiasts exploring nearby hiking and biking trails, and so many others.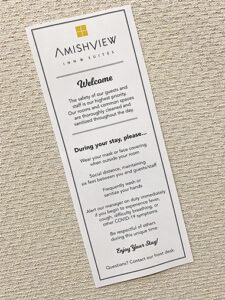 Some folks are so ready to venture away from home that they've created a new way to travel: Bikepacking. It's a mix between camping, biking, and backpacking, with a sub-niche called "credit card bikepacking" for those who carry their belongings but, instead of roughing it at a campsite, they stay in hotels and eat at restaurants.
We welcome them all! Even better, the safety precautions we've taken — and continue to take — to mitigate the risks of COVID-19 could make an overnight stay at AmishView Inn even safer than that backyard barbecue your neighborhood planned.
It's OK to Take that Roadtrip
While our award-winning hotel staff and those at other local venues follow CDC recommendations and government guidelines to ensure the safety of guests, we feel confident that Lancaster County is the ideal post-quarantine destination.  There's a reason why we're ranked the best hotel in Lancaster County by TripAdvisor. Actually, there are many reasons.
Here are just some of the many precautions our hotel is taking to make sure our guests enjoy an affordable boutique-inn experience, confident that their overnight stay in Amish Country is just as safe, if not more, than a backyard barbecue.
Staff undergoes a comprehensive training program that includes detailed information about the coronavirus and how to control its spread. Our entire staff is required to participate in this two-hour training program before returning to work
Masks are always worn by staff. You'll still get the exceptional customer service that keeps repeat guests coming back to us each year, but you'll have to look at the smiles in our eyes for now.
Guests are required to wear masks (except when seated to eat in our Great Room)
Staff and guests are maintaining safe social distances, 6 feet between you and other guests/staff.
We remind guests to frequently wash hands; staff is required to do so.
Hand sanitizer and gloves are available throughout the hotel for any guests who wish to use them.
Enjoy a Country Breakfast
Nothing says "spoil me" better than a delicious, hot breakfast to start the day.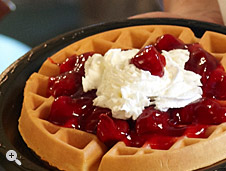 AmishView Inn and Suites has nearly 1,500 "excellent" traveler ratings onTripAdvisor.com and our amazingly delicious country breakfast buffet is often one of the reasons hotel guests love to stay at our 3-diamond hotel in Bird-in-Hand, Pennsylvania. Although modified for COVID-19, our full buffet breakfast is unmatched in this area and is free as part of your guest experience.
Your complimentary, hot country breakfast includes baked oatmeal, bacon and sausage, made-to-order waffles, lots of delicious breads and cereals, juices, hot beverages, and lots more. Check out the details here.
Escape to Country Life
It's been a stressful several months for everyone and now that the quarantine has been lifted, it's time to escape to new surroundings. The country life of Lancaster County, with its rolling farmlands, one-room schoolhouses, and roadside farm markets, offers one of the best options for a stress-free vacation.
As Lancaster's Number 1 hotel, AmishView offers stunning views of Dutch Country and quaint accommodations that enable you to stay near favorite tourist destinations like:
Kitchen Kettle Village
Bird-in-Hand Farmers Market
Lancaster Central Market
Green Dragon (rub shoulders with the Amish)
Roots Market
Antiques Market
Smokehouse BBQ & Brews
Plain & Fancy Farm
Sight & Sound Auditorium
American Music Theatre
So much more!
Your Room, Your Retreat
Our hotel rooms are not your typical suites. We offer four room/suites options as well as adults-only (kids-free) rooms, all of which overlook scenic Amish farmland. Amenities include kitchenettes to make your road trip more affordable (or more intimate as you stay inside, away from home, away from everything!).
We'll help you choose the room that becomes your retreat for the duration of your visit to Lancaster County. Our staff members go out of their way to offer superb customer service. In fact, we offer customer relations. We have guests who have returned for 17 years because of how welcomed they've felt during their stay at AmishView. Read about memorable guests moments, shared by our staff.
When you're ready to travel, AmishView is ready to welcome you and help you discover this ideal road trip destination.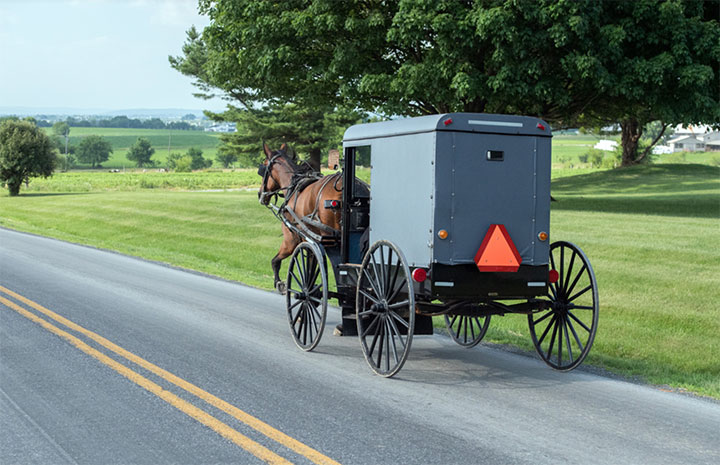 September 27, 2019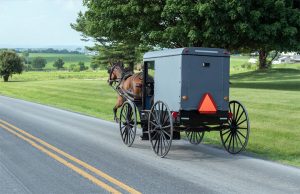 Do you ever just get so tied up at work that you throw your hands up in the air and say, "That's it. I need a vacation." Sometimes you need an uninterrupted break from the daily grind, which is why planning a getaway to Amish Country, PA should be on your bucket list. Slow down from the everyday life happenings, relax away from the city, and let your worries fade while staying at Amishview Inn & Suites. Keep reading to find the top 5 reasons as to why your next escape should be to Lancaster, PA.
1. The Atmosphere
The best time to visit Amish Country, PA, is really any time of the year. You'll quickly find yourself nestled around gorgeous Amish farms, breathtaking landscapes, and quaint shops all around the area. When you physically see how the Amish live, you'll come to appreciate your time reflecting on life away from technology and the modern-day lifestyle.
2. The Furniture
When shopping in Lancaster, PA, we suggest taking the time to appreciate the Amish furniture. Each piece is truly one-of-a-kind, and the longevity of the furniture far exceeds any mass-produced product. The quality and care put into each piece means that the Amish maker has ensured that the selected pieces of hardwood have matured enough to last from generation to generation.
3. The Food
All around town, you'll find farm stands, Amish baked goods, and the best restaurants in Lancaster, PA, that use locally grown Amish ingredients. Traditional Amish food is made with fresh ingredients, is deliciously hearty and will not leave you hungry. Get the taste of the Amish Country, PA, ingredients of Lancaster County at Miller's Smorgasbord.
4. The Buggy Rides
Amish do not drive cars, let alone use transportation that has rubber on the tires as the tractors and buggies are meant to stay close to their farms. Which is why when you visit Lancaster, PA, you'll find many Amish folks traveling around by buggy. We encourage you to take a tour of their farms and properties by buggy, which will allow you to get a real experience of the Amish traditions along the way.
5. The Amish Products
Not only does the Amish produce high-quality furniture and grow the best quality ingredients around, but they also craft many other products. You'll find authentic Amish made clothing, canned goods, quilts, art, candles, leather goods and so much more while shopping in Lancaster, PA. Walk away from your vacation with a gift or keepsake that is one-of-a-kind.

Peaceful Lancaster, PA, Hotels
The Amish take a slower approach to life, and when you visit Lancaster, PA, you'll get to partake in the experience. Escape from the busy city life and take time to nurture your family connections in Amish Country, PA. During your stay at Amishview Inn & Suites, enjoy a freshly prepared breakfast each morning with the view of an Amish farm just outside the window as you eat breakfast. While we offer a peaceful escape, we also provide modern-day amenities such as free wi-fi and TVs that will keep you connected during your getaway. Please give us a call to book your stay 1-866-735-1600 or book online.