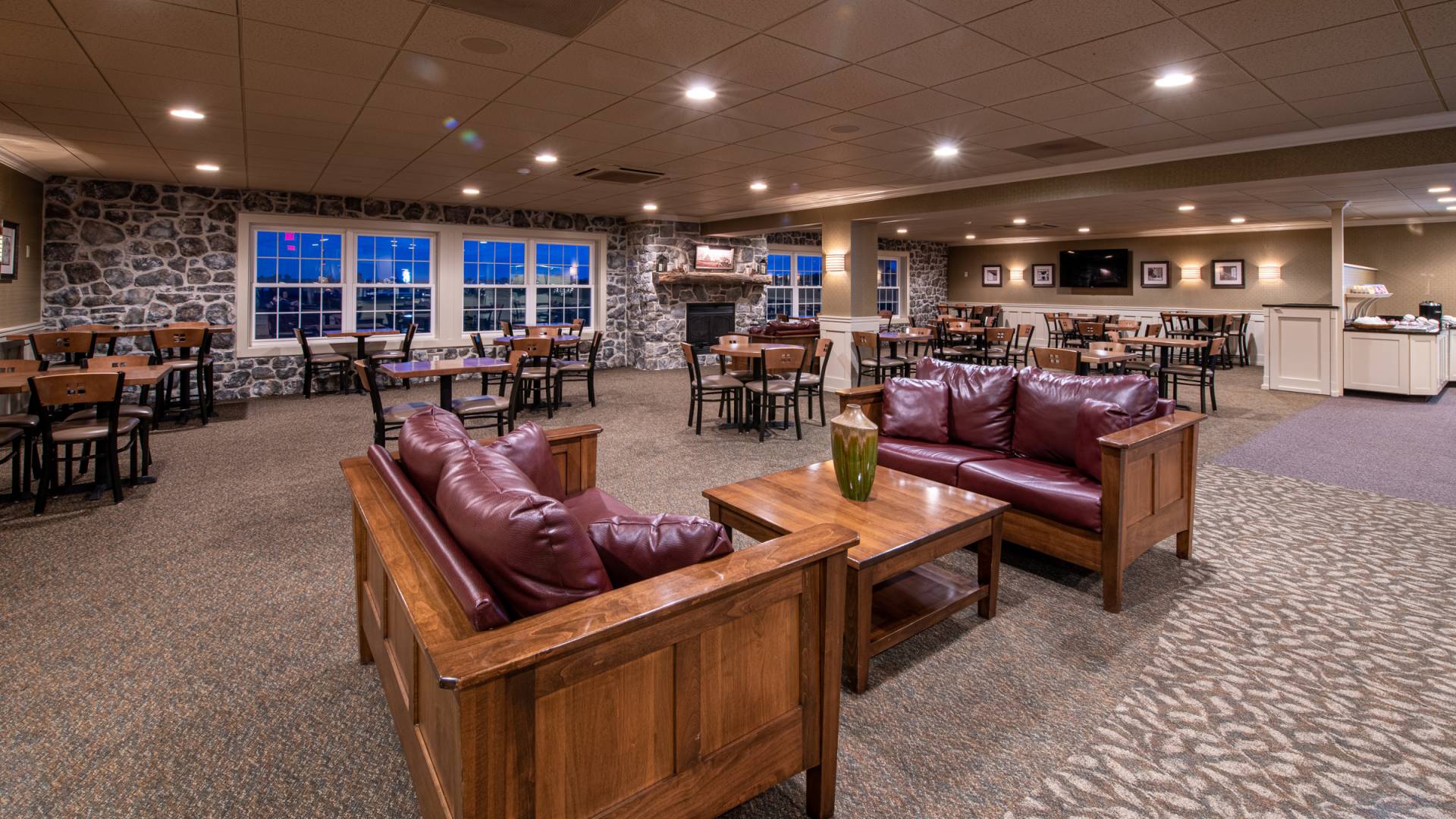 FAQs
---
Here's what you need to know (FAQs) when visiting AmishView Inn & Suites. For other questions not answered below, please call us at 866.735.1600.
Attire
Please be respectful of other guests and wear appropriate attire while in common areas such as hallways, the lobby, conference rooms and the Great Room. Unacceptable attire includes robes, pajamas or other obvious sleep wear.
Check-in
Check-in time is 4:00 p.m. Help yourself to cookies and beverages upon arrival.
Check-out
Check-out time is 11:00 a.m. (please return keys to the Front Desk). There is an additional charge for late check-outs. A check-out between 11 a.m. and 1:00 p.m. may be available upon request. Check-outs between 1:00 p.m. and 4:00 p.m. will be a half-day charge. Check-outs after 4:00 p.m. will be a full-day charge. Please contact the Front Desk to inquire about a late check out so we can check availability.
Breakfast
Our complimentary hot country breakfast buffet is presented every morning from 6:30 a.m. to 9:30 a.m. in our Great Room, located adjacent to the lobby. We feature made-to-order eggs, omelets and waffles, bacon, sausage, country potatoes, hot and cold cereals, fresh fruit, bagels, breads, muffins, juices, hot and cold beverages and more. Hot and cold beverages are available 24 hours a day in our Great Room. To enjoy a more leisurely breakfast on busy mornings, we suggest arriving before 8 a.m. Availability of breakfast buffet offerings is subject to change. Please refrain from moving tables during breakfast hours.
Our Indoor Pool
Our pool, whirlpool, fitness room and arcade are located on the lower level of the main building. The pool and whirlpool close at 11 p.m. Towels are provided at the pool.  Children under 12 must be accompanied by an adult. Glass is not permitted in pool area. Children under 5 are not permitted in the whirlpool. Your guest room key is required to access the pool and fitness room.
Frequent Guest Program
If you don't already have a complimentary Frequent Guest Card, we encourage you to pick one up at the Front Desk. For each room-night you stay with us, you earn a "Punchcard" stamp (get this at the front desk at checkout). After 10 room-nights, present your fully punched card for a $100 credit valid toward any future AmishView stay. To qualify, rooms must be booked directly with us. You may book online here, or call 866-735-1600.
Complimentary Wi-Fi
Use our complimentary wi-fi, available throughout the hotel, via your laptop or mobile device. Select "AmishViewInn" as the network (a password is not required). You're also invited to check your e-mail and surf the net at the computer kiosk located in the "luggage cart area" just off our lobby.  
Credit Cards
Discover, Visa, MasterCard, and American Express cards are accepted.
DVD Rentals
Each AmishView guest room is equipped with a DVD player. DVD rentals are available at the Front Desk for a $3 rental fee. A Front Desk Representative can also provide you with a list of our DVDs, including our most recent additions and most popular selections.
Emergency or Fire 
Contact the Front Desk or dial 9-1-1. See the emergency exit card on the back of your guest room door.
Fax Machine
Facsimile services are available at the Front Desk. For incoming faxes, our number is 717-768-3006 ($2 fee for the 1st page, $1 for each additional).
First Aid
For emergencies, contact the Front Desk or Dial 9-1-1.
Fitness Room
The fitness room is located on the lower level of the main building. Equipment includes treadmills, elliptical machine, recumbent bike, mats, dumbbells and universal gym. Children under 17 must be accompanied by an adult. Bring your guest room key for access. Open 24 hours. 
Florist
Florals in Time, located at 5293 Lincoln Highway in Gap, offers fresh, silk and dried flowers as well as gifts, plants, balloons, and plush. They will deliver to the hotel and accept Visa, MasterCard, and Discover. Visit their website: www.floralsintime.com or call 717-442-4946. Our Front Desk staff will be happy to assist you.
Forgot Something?
The following items are available at our Front Desk ~ Toothbrushes, toothpaste, mouthwash, combs, razors, shaving cream, lotion, deodorant, sewing kits and shower caps.
Game Room/Arcade 
The arcade is located in the lower level of the main building and is open 24 hours. A change machine is available in the arcade.
Housekeeping
Touch "Housekeeping/Guest Services" on your guest room phone for extra pillows, feather pillows, blankets, hangers or special requests.
Laundry
A coin operated Guest Laundry is located on the lower level of the main building. The washer and dryers use quarters only. A change machine is located adjacent to the Laundry in the Arcade.
Lost and Found
Touch "Front Desk" on your in-room phone to inquire about lost items. We will gladly ship items left behind from your stay with your provided credit card information.
Mail
You may drop off or pick up mail at the Front Desk. Post office locations available in Bird-in-Hand and Ronks.
Manager On Duty
Please contact the Front Desk, 24 hours a day, by touching "Front Desk" on your in-room phone.
Maintenance Issues
If you have any problems with our equipment or anything else, please press "Maintenance/Guest Services" on your in-room phone and we will send the appropriate person to help or repair the problem.
Message Services
The blinking red light on your in-room telephone indicates that you have messages. Please press the "Messages" button and follow prompts.
Pack-n-Plays, Rollaway Beds & Bed Rails
Pack-n-Plays, Rollaway Beds and Bed rails are available for some room types at an additional charge of $10 plus tax per night. Please contact the Front Desk for availability. Please note that the Pack-n-Plays and Rollaway Beds are not available for Grand King rooms in the adults-only West Building.
Pets
Pets, other than service animals, are not permitted in rooms or on the premises. Smoketown Veterinary Hospital is the nearest kennel and is located 3 miles west of the hotel on Route 340. Additionally, Oscar's Pet Resort is another nearby option.
Parking
Parking is free. You may park anywhere in the parking lot in front of the hotel and the Amish Experience complex. In the event that these lots are full, the "West" lot is also available (take a right out of the East lot, go 50 yards and take a right into West lot. Please accept our apologies for this inconvenience).
Safety
In-line skates, skateboards, scooters, hover boards, Heelys and wheeled toys are not permitted in the hotel or on the Plain & Fancy premises.
Smoking Policy 
AmishView is a non-smoking establishment, including all guest rooms and common areas. A smoker's post is located under the carport outside the Lobby door.  An ash bin is located on the patio outside of the pool area. 
Wake Up Calls
Touch "Wake Up Call" on your in-room phone.