Amish Quilts in Pennsylvania | Shop and Stay in Lancaster
March 29, 2021
The quilts created by Pennsylvania Amish women are some of the most sought-after bed coverings. AmishView Inn & Suites welcomes visitors from around the globe who travel to Lancaster County hoping to learn more about the Amish and to shop for these treasured works of handstitched art.
Where to Buy Amish Quilts in Pennsylvania?
We suggest you get started right on the sight of our Lancaster hotel, at the Plain & Fancy Country Store. You'll find smaller quilted items like potholders and table runners to whet your appetite before adventuring from Bird in Hand to other parts of the county. You'll be able to purchase other authentic, Amish-crafted items, like dolls, wooden toys, and typical Dutch baked goods.
Enjoy a relaxing stay in one of our rooms or suites, enjoy the best complimentary breakfast in the area, and then head out for a day of quilt shopping (or plan a "quilt retreat" and stay in our quiet, adults-only hotel).
The Quilt Shop at Miller's, 2811 Lincoln Hwy East, Ronks, is one of Pennsylvania's most popular spots for quilt shopping, with 3,500 square feet of display room showcasing hundreds of handmade Amish quilts. Less than a 10-mile drive from our boutique hotel, guests can visit this Lancaster County shop, which is operating under regular business hours, and take advantage of our special offer to save on a quilt purchase.
In addition to what the Quilt Shop at Miller's offers, numerous auction houses often include Amish quilts in their online catalog listings and annual mud sales are a great place to buy bedspreads and other quilted items.
What Are Popular Amish Quilts for Sale?
While quilting was, and still is, an important industry for the Amish, it also serves as an important way for Amish and Mennonite women to socialize.
Some popular patterns include: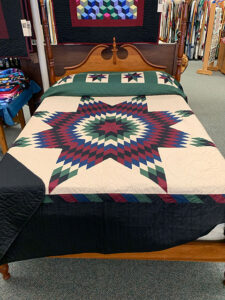 Bethlehem (Lone) Star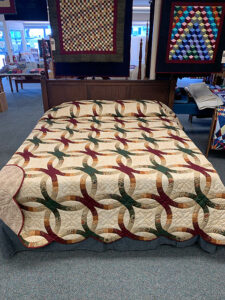 Wedding Ring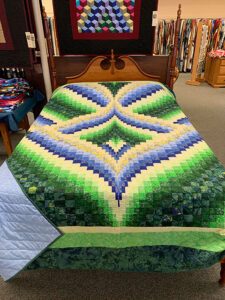 Northern Lights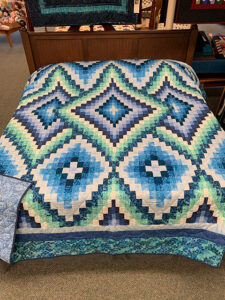 and Diamonds are among the most popular.
How Much Do Amish Quilts Cost?
Prices can vary greatly, but for an authentic handstitched Amish quilt, $1,000 is not unreasonable. The most expensive quilt ever sold at auction went for $264,000 in 1991. "Reconciliation Quilt" is a Civil War-era quilt now at the International Quilt Study Center at the University of Nebraska. Images in the quilt reveal vignettes of life in Brooklyn after the war.
How Should I Care for An Amish Quilt?
When it's time to clean your quilt, you should handwash your quilt in a large tub of cold water, using a mild, dye-free soap/detergent. Swirl the quilt gently to agitate it and then drain the tub. Refill it with cold water and add a ¼ cup of distilled vinegar. Agitate and drain again. Thoroughly rinse with water until there are no signs of bubbles or soap residue. Air-dry the quilt out of direct sunlight.
Inspect a quilt thoroughly for any stains before storing it. Fold it gently and place it inside a king-size cotton pillowcase, if possible. Keep it in a place with stable, moderate temperature and no humidity.
Since the mid-1800s, Amish (and Mennonite) crafters have supplied the quilt-making "cottage industry" with full-size bedspreads, baby quilts, and wall hangings in popular patterns. AmishView Inn & Suites in the heart of Amish County, is perfectly located in the midst of many shops that sell these beautifully handcrafted blankets. Check our rates and availability to start planning your quilt shopping adventure.
Related Articles