Enjoy Safe Overnight Stays in Lancaster County
September 17, 2020
As the number of coronavirus cases steadily declines, people are starting to travel again. It's exciting to know Lancaster County tourism continues to emerge from COVID-19 and visitors from surrounding counties and states are once again discovering the beauty of Amish Country.
People are ready to shed their cabin fever: Families coming to Lancaster for the Amish experience or to see shows at American Music Theater or Sight & Sound, couples looking for a romantic getaway, outdoor enthusiasts exploring nearby hiking and biking trails, and so many others.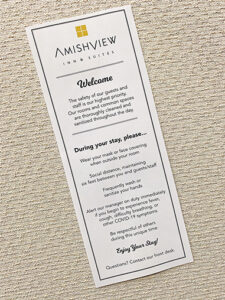 Some folks are so ready to venture away from home that they've created a new way to travel: Bikepacking. It's a mix between camping, biking, and backpacking, with a sub-niche called "credit card bikepacking" for those who carry their belongings but, instead of roughing it at a campsite, they stay in hotels and eat at restaurants.
We welcome them all! Even better, the safety precautions we've taken — and continue to take — to mitigate the risks of COVID-19 could make an overnight stay at AmishView Inn even safer than that backyard barbecue your neighborhood planned.
It's OK to Take that Roadtrip
While our award-winning hotel staff and those at other local venues follow CDC recommendations and government guidelines to ensure the safety of guests, we feel confident that Lancaster County is the ideal post-quarantine destination. There's a reason why we're ranked the best hotel in Lancaster County by TripAdvisor. Actually, there are many reasons.
Here are just some of the many precautions our hotel is taking to make sure our guests enjoy an affordable boutique-inn experience, confident that their overnight stay in Amish Country is just as safe, if not more, than a backyard barbecue.
Staff undergoes a comprehensive training program that includes detailed information about the coronavirus and how to control its spread. Our entire staff is required to participate in this two-hour training program before returning to work
Masks are always worn by staff. You'll still get the exceptional customer service that keeps repeat guests coming back to us each year, but you'll have to look at the smiles in our eyes for now.
Guests are required to wear masks (except when seated to eat in our Great Room)
Staff and guests are maintaining safe social distances, 6 feet between you and other guests/staff.
We remind guests to frequently wash hands; staff is required to do so.
Hand sanitizer and gloves are available throughout the hotel for any guests who wish to use them.
Enjoy a Country Breakfast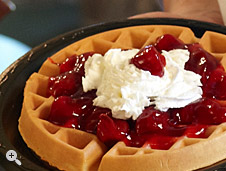 Nothing says "spoil me" better than a delicious, hot breakfast to start the day.

AmishView Inn & Suites has nearly 1,500 "excellent" traveler ratings on TripAdvisor.com and our amazingly delicious country breakfast buffet is often one of the reasons hotel guests love to stay at our 3-diamond hotel in Bird-in-Hand, Pennsylvania. Although modified for COVID-19, our full buffet breakfast is unmatched in this area and is free as part of your guest experience.
Your complimentary, hot country breakfast includes baked oatmeal, bacon and sausage, made-to-order waffles, lots of delicious breads and cereals, juices, hot beverages, and lots more. Check out the details here.
Escape to Country Life
It's been a stressful several months for everyone and now that the quarantine has been lifted, it's time to escape to new surroundings. The country life of Lancaster County, with its rolling farmlands, one-room schoolhouses, and roadside farm markets, offers one of the best options for a stress-free vacation.
As Lancaster's Number 1 hotel, AmishView offers stunning views of Dutch Country and quaint accommodations that enable you to stay near favorite tourist destinations like:
Kitchen Kettle Village
Bird-in-Hand Farmers Market
Lancaster Central Market
Green Dragon (rub shoulders with the Amish)
Roots Market
Antiques Market
Smokehouse BBQ & Brews
Plain & Fancy Farm
Sight & Sound Auditorium
American Music Theatre
So much more!
Your Room, Your Retreat
Our hotel rooms are not your typical suites. We offer four room/suites options as well as adults-only (kids-free) rooms, all of which overlook scenic Amish farmland. Amenities include kitchenettes to make your road trip more affordable (or more intimate as you stay inside, away from home, away from everything!).
We'll help you choose the room that becomes your retreat for the duration of your visit to Lancaster County. Our staff members go out of their way to offer superb customer service. In fact, we offer customer relations. We have guests who have returned for 17 years because of how welcomed they've felt during their stay at AmishView. Read about memorable guests moments, shared by our staff.
When you're ready to travel, AmishView is ready to welcome you and help you discover this ideal road trip destination.
Related Articles