Meet Katie G., General Manager
August 31, 2020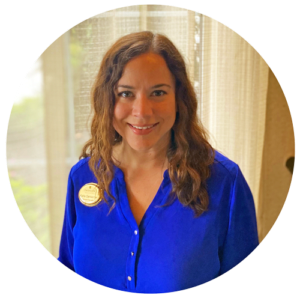 What is your most memorable AmishView guest moment or interaction?
"A few summers ago, on a hot and super humid August morning, I was assisting our breakfast team with cleaning tables and delivering dirty dishes to the kitchen. It was a very busy day and I was hustling. A frequent guest of ours greeted me and we took a few minutes to connect. As we were parting ways, she opened her arms to give me a hug. Thanks to the high humidity, I was not presenting the façade of a serene and orderly general manager. Instead, rivulets of sweat were running down my temples. I was hot and sticky and my curls were becoming wild. I protested that I was not in an ideal condition for a hug. She waived my protests aside and gave me a hug saying that it was just so nice to see me and added compliments about the team. The gracious love from that action and the accompanying comments filled my heart and renewed my energy."
What do you like most about working for AmishView?
"My responsibilities have changed over the years and regardless of the roles, the people are what make this job so enjoyable. Interacting with our guests, getting to know them and learning their stories is a treat. I am also privileged to work alongside some amazing people each day. Watching them grow and meld into a strong, supportive team is very rewarding."
What do you think sets AmishView apart from other hotels?
"Our team dynamics: There is a deep-rooted sense of genuine caring and looking out for our guests' needs and expectations. This sentiment is also continued between our fellow co-workers and teammates in their interpersonal relationships with each other. Our team knows that it takes every one of us to play a part. Having confidence that we are supported by those we work with allows the team to deliver an outstanding guest experience."
Is there something special, unique or interesting you'd like our guests to know about you?
"I was a Studio Art major in college, little realizing how much hospitality was a natural fit for me. I suspect my parents were not surprised by my realization in the years following graduation. Working at AmishView was my first non-art related job and the first time working at a hotel."
Related Articles