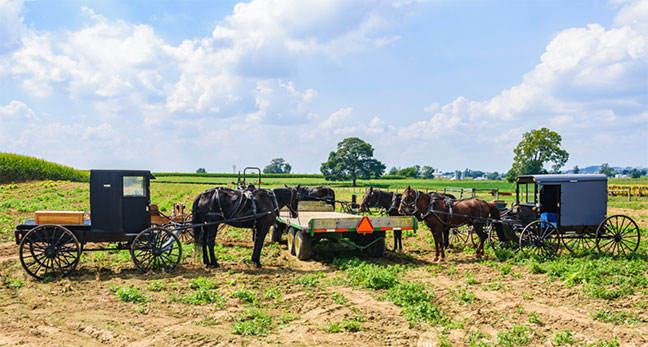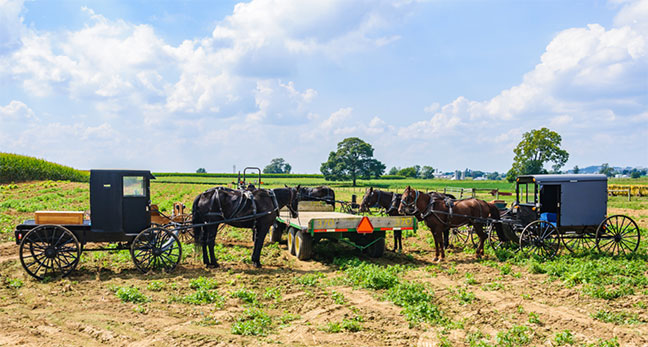 8 Astonishing Facts About the Amish Community
November 28, 2019
You may find yourself becoming naturally curious about the Amish community while staying at Amishview Inn & Suites. There are two main groups of Plain People in Lancaster, PA: the Amish and the Mennonites. Today we'll be focusing more on the Old Order Amish traditions. The Old Order Amish community believes in a simple way of life and does not permit the use of technology and electricity. There are many unique things about the Amish community that may make you think twice about daily living. Keep reading to learn eight fascinating facts about the Old Order Amish traditions.  
1. Daily Transportation
You'll often see the Amish traveling around Lancaster, PA, on a horse and buggy on the local roads. Old Order Amish do not operate vehicles with motors, which also means they do not use tractors in their fields. The Amish will, however, use horses as well as mules to pull modern farm equipment.
2. Rumspringa
Between the ages of 14 and 18, Amish teens can join the English world, which is known as Rumspringa. During this time, the teens decide whether or not they want to leave the Amish community entirely or if they'd like to return, become baptized, and dedicate themselves to the Amish way of life.
3. Yes, Amish Vacation
Yes, believe it or not, Amish do enjoy an occasional trip outside of their local community of Lancaster, PA. One popular Amish winter destination is Pinecraft, FL, which is jokingly referred to as "Amish Las Vegas." Learn more about transportation and how the Amish travel here!
4. Facial Hair
In biblical times, it was quite common for a man to have a beard, which is perhaps one reason why you'll find so many men with long beards in Amish Country, PA. Men without a beard are waiting for marriage to begin growing them out as a symbol of their transition into manhood. In the earlier days, wearing a mustache meant you were associated with the military (Amish are exempt from the military), which is why in Old Order Amish traditions, men shave them off entirely.
5. Lower Risks of Cancer
Researchers believe that the Amish have lower cancer rates because of their lifestyle. Amish eat and grow their own food and also do not allow alcohol or tobacco.
6. Simple Clothing
Amish wear Plain clothing that does not have patterns, zippers, buckles, or collars, and typically favor dark colors such as burgundy, brown, black, blue, or purple depending on the Amish community. While Amish females generally make clothing, they do purchase socks, fabric, shoes, hats, and other items from a dry goods store.
7. What Do Amish Believe?
While there are many intricate details of the Amish religion, in a simplified statement, their beliefs are similar to traditionalist Christians and are associated with the Anabaptist denominations. Lancaster County has an informative article about the Amish beliefs and practices related to their faith.
8. Amish Schooling
Amish children are only required to attend school until eighth grade (age 14) and typically attend classes in one-room private schools.

Escape to Amish Country, PA
While we could go on about the fascinating Amish beliefs and practices, we hope you enjoyed getting to know a little more about the Amish traditions. This holiday season, if you'd like to learn more about shopping for Amish furniture and what makes the quality of each piece special, take a look at our Amish Furniture blog online. Indulge in a relaxing getaway to Amish Country, PA, where time slows down, and worries fade entirely. Please contact our staff at 1-866-735-1600 for general questions or, for convenience, book online!
Related Articles