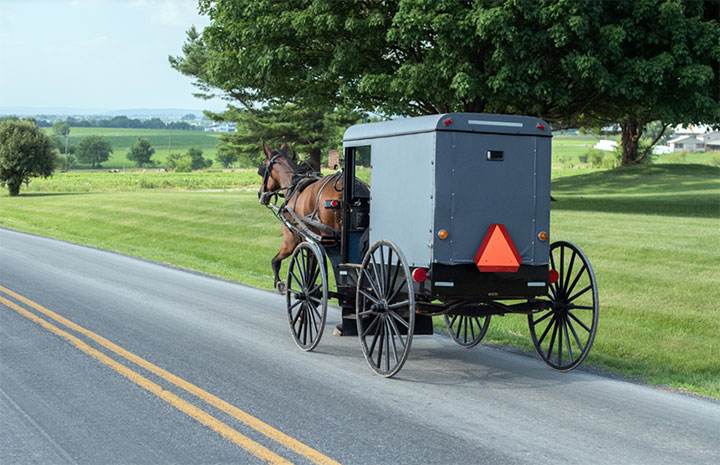 5 Top Reasons to Take a Trip to Amish Country, PA
September 27, 2019
Do you ever just get so tied up at work that you throw your hands up in the air and say, "That's it. I need a vacation." Sometimes you need an uninterrupted break from the daily grind, which is why planning a getaway to Amish Country, PA should be on your bucket list. Slow down from the everyday life happenings, relax away from the city, and let your worries fade while staying at AmishView Inn & Suites. Keep reading to find the top 5 reasons as to why your next escape should be to Lancaster, PA.
1. The Atmosphere
The best time to visit Amish Country, PA, is really any time of the year. You'll quickly find yourself nestled around gorgeous Amish farms, breathtaking landscapes, and quaint shops all around the area. When you physically see how the Amish live, you'll come to appreciate your time reflecting on life away from technology and the modern-day lifestyle.
2. The Furniture
When shopping in Lancaster, PA, we suggest taking the time to appreciate the Amish furniture. Each piece is truly one-of-a-kind, and the longevity of the furniture far exceeds any mass-produced product. The quality and care put into each piece means that the Amish maker has ensured that the selected pieces of hardwood have matured enough to last from generation to generation.
3. The Food
All around town, you'll find farm stands, Amish baked goods, and the best restaurants in Lancaster, PA, that use locally grown Amish ingredients. Traditional Amish food is made with fresh ingredients, is deliciously hearty and will not leave you hungry. Get the taste of the Amish Country, PA, ingredients of Lancaster County at Miller's Smorgasbord.
4. The Buggy Rides
Amish do not drive cars, let alone use transportation that has rubber on the tires as the tractors and buggies are meant to stay close to their farms. Which is why when you visit Lancaster, PA, you'll find many Amish folks traveling around by buggy. We encourage you to take a tour of their farms and properties by buggy, which will allow you to get a real experience of the Amish traditions along the way.
5. The Amish Products
Not only does the Amish produce high-quality furniture and grow the best quality ingredients around, but they also craft many other products. You'll find authentic Amish-made clothing, canned goods, quilts, art, candles, leather goods and so much more while shopping in Lancaster, PA. Walk away from your vacation with a gift or keepsake that is one-of-a-kind.
Peaceful Lancaster, PA, Hotels
The Amish take a slower approach to life, and when you visit Lancaster, PA, you'll get to partake in the experience. Escape from the busy city life and take time to nurture your family connections in Amish Country, PA. During your stay at AmishView Inn & Suites, enjoy a freshly prepared breakfast each morning with the view of an Amish farm just outside the window as you eat breakfast. While we offer a peaceful escape, we also provide modern-day amenities such as free wi-fi and TVs that will keep you connected during your getaway. Please give us a call to book your stay 1-866-735-1600 or book online.
Related Articles