Enjoy an Amish Thanksgiving During an Extended Weekend in Lancaster County
October 18, 2021
While October's peak foliage attracts many visitors to the area, soon guests will have holidays on their minds and we can't think of a better destination than Lancaster County for a celebration of blessings and bountiful harvests!
We have rooms and suites offering breathtaking views of Amish Country and encourage you to call for availability as soon as possible. Visit our site's Offers page to see updated information on special packages and enhancements to your accommodations.
Read further to learn more about Thanksgiving in Lancaster County.
Do Amish Celebrate Thanksgiving?
Occasionally, visitors ask if the Amish celebrate Thanksgiving. Yes, they celebrate Thanksgiving Day with turkey dinners and family gatherings in perhaps a more subdued manner, centered around religious customs and without football on TV.
Autumn is Wedding Season
The fall is better known as the wedding season among the Amish than as a time for the singular Thanksgiving feast. Daily devotions and From October through December, Amish weddings take place on Tuesdays and Thursdays, usually in the home of the bride.
Hundreds of guests attend each wedding. As you can imagine, meal preparations for such a gathering are formidable.
Amish fall weddings require much more meal planning, preparation, and participation than that which is required on Thanksgiving Day.
Thanksgiving in Amish Country
This menu from the Smithsonian American Art Museum shows the meal plan for Thanksgiving in 1905: mashed potatoes, English plum pudding, Charlotte Russe dessert, and, of course, turkey.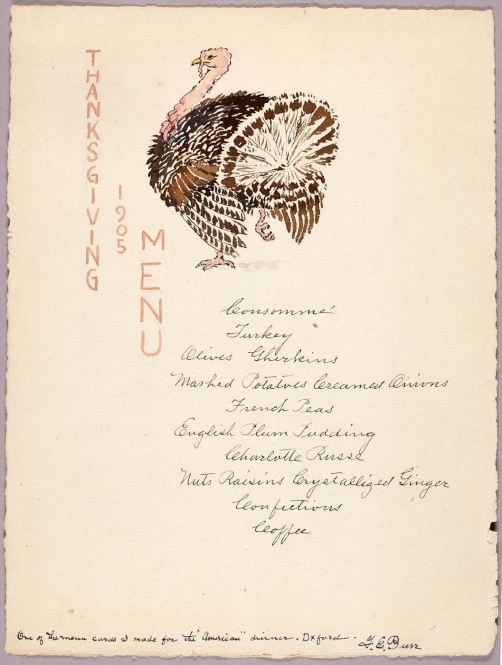 Here are a few ideas on where to find an equally tasty (if not more so) Thanksgiving meal in Lancaster in 2021:
Smokehouse BBQ and Brews will be open on Thanksgiving from 11:30 a.m. to 7 p.m. serving its Thanksgiving menu only. To make reservations, call 1-800-669-3568. The latest reservation time will be 6 p.m. Additionally, they are offering a gobbler-to-go option (Thanksgiving takeout meal). Call 717-419-1337 to place a pre-order for pick up on Thanksgiving day. Pre-orders will be taken until 5 p.m. on Monday, Nov. 22.
Plain and Fancy is well-known for hearty Amish dinners, including chicken, sausage, mashed potatoes, red beet eggs, homemade rolls, shoofly pie, and so much more. Currently, call-ahead seating is not available. You can find updated information on the Plain & Fancy site.
Miller's Smorgasbord (3.5 miles) serves a delicious Thanksgiving meal with all the comfort foods you'd expect. (Reservations are filling quickly). Don't be discouraged if reservations are full. There are plenty of venues in Lancaster County that offer holiday meals for dine-in or takeout.
The Fireside Tavern in Strasburg (5.9 miles) plans to host a Thanksgiving Day buffet, which includes not just turkey but ham, prime rib, and smoked salmon as well as many other offerings.
Bird-in-Hand Restaurant (3 miles) is offering Thanksgiving dinners to go, with pre-orders required for pickup on Nov. 24 from noon-6 p.m.
What is an Amish Turkey?
You might hear some travelers talk about enjoying an Amish turkey in Lancaster County. An Amish turkey is just a turkey raised on an Amish farm. While it can often mean the turkey has been raised free-range, that is not always the case.
If you crave a farm-raised, free-range turkey on Thanksgiving Day, make inquiries at the venue of your choosing to ensure your bird is sourced locally and has been raised in that manner.
Family Thanksgiving Weekend or Intimate Getaway
Since 2003, AmishView Inn & Suites has welcomed visitors to Amish Country. Many visitors stay with us because we're conveniently located near popular Amish attractions, as well as well-known theater venues such as Sight & Sound Theatre (3.1 miles) and American Music Theatre (4.8 miles).
Whether your entire family plans to spend an extended weekend near Thanksgiving or you're a couple seeking an intimate getaway over the holiday, AmishView Inn has accommodations to suit your needs and your budget.
Related Articles