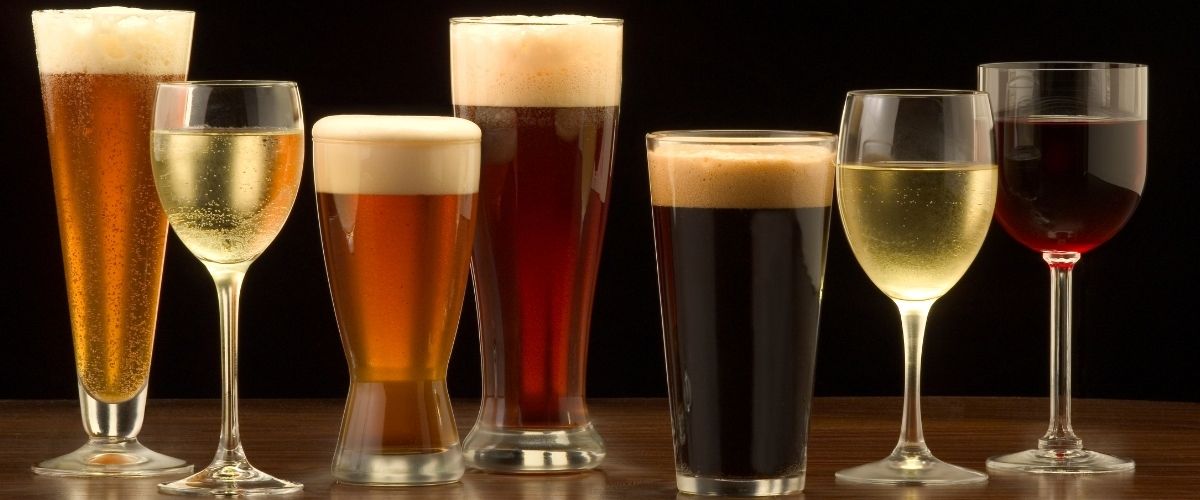 What Is Better for You, Beer or Wine? (Enjoy Both in Lancaster County)
January 31, 2022
Beer and wine may add to your enjoyment during your leisure time. Over the years, many have posed the question: Which is better for you, beer or wine? Beer offers more nutritional value than wine, however, wine contains fewer calories. Moreover, red wine provides antioxidants. Both beer and wine can provide some health benefits when consumed in moderation. Your health goals and personal preference determine the best of the two.
With this question not having a clear-cut answer, one might have to do some research and explore the options available. Lancaster is home to many great breweries and wineries for such discovery, and an extended stay at AmishView Inn & Suites will give you the time you need to taste the best beers and wines in the area.
First, let's get into some details about beer and wine and answer some questions you might have.
What's the Difference Between Beer & Wine?
You likely already know, but here's a quick summary. Beer is typically made from fermented grains, hops, and water, while wine is made from the fermented juice of grapes. These ingredients give beer and wine different caloric values, alcohol content levels, as well as health benefits. The differing ingredients certainly result in their difference in taste.
How Many Calories In Beer Vs Wine
An average serving of wine at 5 ounces contains around 120 calories. A pint of beer, the most common serving of beer, contains on average 208 calories. The higher calorie count in beer comes from its ingredients. The grains and sugars in beer are the cause of carbohydrates, which leads to more calories. Wine, typically, will have fewer calories.
The number of calories will depend on the type of beer or wine you choose to drink.
If you're looking for a beer with few calories, go with a light beer. When seeking a wine with few calories, choose a glass of white wine. White wines generally have fewer calories than reds. Start with a white Riesling and compare. You'll need to search online for calories per product because the Alcohol and Tobacco Tax and Trade Bureau (which regulates alcoholic beverages) does not require nutritional labeling.
How Much Sugar Is In Beer Vs Wine
Pure forms of alcohol contain little sugar. However, sugar does play an essential role in fermentation. During the beer brewing process, mashing grains results in a sugar-containing liquid called wort. With wine, the sugar comes from grapes fermenting. Sugar can be added during the beer and/or winemaking process to encourage a "secondary" fermentation and to sweeten the final taste.
Wine typically has less sugar.
How Much Alcohol In Beer Vs Wine
Most beer has an ABV (Alcohol By Volume) of around 4.5%, while wine has an average ABV of around 11.6%. Wine has more alcohol than beer, in general.
Health Benefits?
In short, beer and wine both provide some health benefits.
The antioxidants in wine reportedly reduce heart disease. Recent studies also show that wine can help promote a healthy digestive system.
Beer, however, contains important nutrients such as fiber, iron, and calcium. Also, the silicon in beer can assist in building strong bones.
Most importantly both beer and wine should be enjoyed in moderation for an individual to enjoy these benefits.
Where Can I Taste Craft Beer In Lancaster?
Lancaster County has many venues ideal for enjoying beer or wine. Following are just a few suggestions located close to AmishView Inn & Suites.
Smokehouse BBQ & Brews at Plain & Fancy Farm, 3121 Old Philadelphia Pike, Bird in Hand, PA (within walking distance)
Smokehouse has a great selection of craft beer on tap as well as a lunch and dinner menu with tempting appetizers, entrees, and desserts. With original brews such as Adulting Guava from Evil Genius in Philadelphia, PA, or St. Boniface Paideia Pale Ale from Ephrata, PA, you're sure to find a beer you'll love.
Rumspringa Brewing Company, 3174 Old Philadelphia Pike, Bird in Hand, PA (2-minute drive)
Rumspringa is produced and bottled by the main brewery, Swashbuckler Brewing Company, which is on the grounds of Mount Hope Estate & Winery in Manheim. Call the brewery to get current hours of operation and to check for availability.
Another unique option in Lancaster is Tattered Flag. What makes this location unique is its self-serve tap wall. In addition to this, the Tattered Flag Barrel House is right below the Escape Room Lancaster, making this an excellent opportunity for two great stops on your trip! Call the barrel house for hours of operation.
Where Can I Taste Quality Wine In Lancaster?
Thorn Hill 3125 Old Philadelphia Pike, Bird in Hand, PA 17505 (a 17-minute drive)
Thorn Hill is the only California wine tasting room in Pennsylvania, making it a must-see on your wine exploring itinerary. Great wine offerings, personalized wine tastings, and frequent events and music performances make this Lancaster County wine venue a fun venue. Call ahead for hours of operation and scheduled events.
Deerfoot Downtown.348 N Queen St, Lancaster, PA (a 20-minute drive)
This Lancaster tasting room showcases the small-batch wines of Deerfoot Vineyards and Winery in Berks County. Their wines are produced from locally sourced fruits. Call ahead for details about the tasting room and bottle shop.
The Verdict
Regardless of which beverage you prefer, Lancaster provides a great opportunity to explore both. With adults-only accommodations, as well special offers like our Wine-Chocolate-Movie Package, AmishView Inn & Suites makes extended stays in Lancaster County enjoyable. Book your room or suite today.
Related Articles