Meet Ismael Rodriguez, Housekeeping Lead
August 28, 2020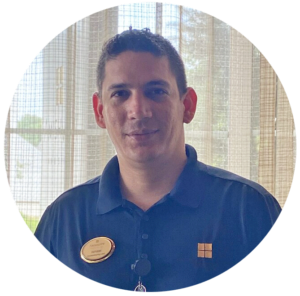 What is your most memorable AmishView guest moment or interaction?
"When the guests have approached me to praise the hotel in terms of cleanliness, both in the rooms and in the public areas. Also, the attention and kindness of all the housekeeping staff. It is something that fills us with pride and satisfaction because we're doing a good job."
What do you like most about working for AmishView?
"At AmishView I really like the work I do. I try to do better every day, but what I like most, and that I have not seen in any other job, is that we are all one big family, without distinction of race, color, sex, language or religion. At AmishView we are all the same."
What do you think sets AmishView apart from other hotels?
"AmishView is a beautiful place in which we work daily to make guests feel at home. I think something that distinguishes us is the great cleanliness and hygiene we maintain in the rooms and in the public areas. Our staff is very prepared with a lot of education and we are always ready to serve our guests."
Is there something special, unique or interesting you'd like our guests to know about you?
"I am originally from Cuba. I came to live in the USA four years ago and I love this great country. I am very grateful, since it opened its doors to me – Doors to Freedom!!! I am a simple person who loves animals and I have a dog named Bitzy who is like my daughter."
Thank you for your hard work, Ismael, and for helping us to earn this outstanding achievement on TripAdvisor.
Related Articles