Meet Natalia Q.
August 15, 2020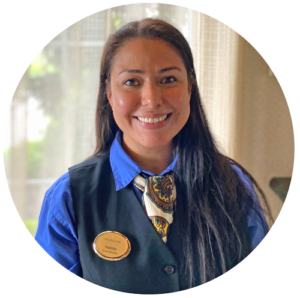 What is your most memorable AmishView guest moment or interaction?
"All of my interactions and moments with guests have always been positive and memorable. But, I remember a woman who was staying at the hotel and told me her grandchild was going to be born soon. A few days later she called the hotel asking for me and told me of the birth of her grandson! That was a very special moment for me."
What do you like most about working for AmishView?
"Working at AmishView allows me to be myself. I've learned that a small act of kindness can make a big difference in someone's day. What I like the most about AmishView is being able to give to many people the best of me."
What do you think sets AmishView apart from other hotels?
"I think that AmishView is different from other hotels because here we have many people of different nationalities and capacities. We reflect a mutual respect and equality to our guests. In AmishView, there is no place for racism, gender inequality or homophobia."
Is there something special, unique or interesting you'd like our guests to know about you?
"I like to play and watch soccer and enjoy beer!"
Thank you for sharing, Natalia, and for helping us to earn this outstanding achievement on TripAdvisor.
Related Articles