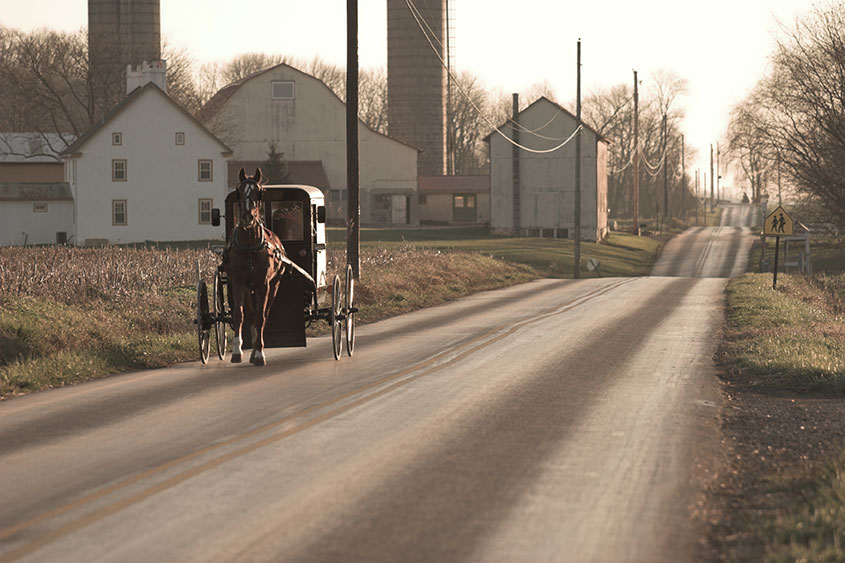 Horse and Buggy Rides: An Authentic Amish Experience
February 6, 2020
When you first drive into Pennsylvania Dutch Country, it will become very apparent that you're "not in Kansas anymore" (as Dorothy from The Wizard of Oz would say) while staying at Amishview Inn & Suites. One of the first things you'll notice upon your arrival is the classic horse and buggies strolling through town. 
Amish believe in keeping their buggies close to the farm, which means they do not use rubber on their tires because it's not intended to go very far. Why not immerse yourself in the Amish experience and take a buggy farm tour during your stay in Lancaster, Pennsylvania? You can't take a unique Amish tour just anywhere these days, and it will be one of your favorite things to do in Lancaster during your vacation.
Amish Country Tours
There are many ways to see Amish Country, PA, whether you're flying high in the sky on a hot air balloon ride looking over the farms or are taking a walking tour through downtown Lancaster. Taking one of the buggies Amish Country tours will not only give you a chance to have an authentic Amish experience, but you'll also gain insider information from the buggy drivers themselves! You'll be able to ask as many questions as you'd like to during the tour with Aaron & Jessica's Buggy Rides, which is a family-friendly owned business.
On tour, you'll take a scenic ride around the Pennsylvania Dutch Country passing by the Amish schools, farmlands, shops, and many other areas that you wouldn't think to view in your free time. If you have the Amish experience Monday through Saturday, you'll be able to see a privately owned and operated Amish dairy farm. Lucky for you, the buggy rides are open year-round, and Amish Country tours happen during rain or shine! Learn more at amishbuggyrides.com or on our website under the attractions page.
Spring Break Relaxing Getaways
No matter what you have on your daily itinerary, you'll be able to grab a seat in the Great Room each morning between 6:30 a.m. and 10:30 a.m to get your fill of a freshly made breakfast! Breakfast includes a variety of delicious options from baked oatmeal to made-to-order waffles as well as bagels, fruits, and sticky buns.
During your stay with AmishView Inn & Suites, you'll be happy to know that we offer coupons to use for Aaron & Jessica's Buggy Rides, and they can be redeemed on our website. A buggy ride is a one-of-a-kind Amish experience in Lancaster, Pennsylvania, that you won't want to miss while you're in town! Spring break is quickly approaching, so why not plan a relaxing getaway to Pennsylvania Dutch Country where you can take the time to relax and unwind? Give us a call today at 1-866-735-1600, or you can make your reservation online!
Related Articles